Pro-Tracker Recovery System
$699.95
Get the complete Pro-Tracker Recovery System. Everything you need to guarantee the recovery of your trophy.
The Pro-Tracker® Recovery System is a radio frequency system that is used in bowhunting. The radio transmitter rests in a carrier on the shaft of your arrow and deploys when the arrow penetrates the hide of the animal. The arrow continues to penetrate and the transmitter remains in the hide. The transmitter has a battery life of 18–20 hours and a range up to 2 miles. This means that if regular tracking methods are exhausted, the Pro-Tracker Recovery System can be used to locate your trophy.
Description
The Pro-Tracker Recovery System ensures the recovery of your fatally wounded game. Every ethical hunter is troubled by the thought of losing wounded game, the Pro-Tracker® System allows for recovery of wounded game through the use of the latest technology. A poor shot, weather conditions and other factors out of a hunter's control can make tracking impossible. Depending on a blood trail can result in failure. Unlike a lighted nock, the Pro-Tracker® System tracks your game, not just your arrow by detaching from the arrow and into the hide of the animal. Using radio transmission, the transmitter allows you to pinpoint the location of your fatally wounded animal. Hunt with confidence, hunt with Pro-Tracker®.
*This recovery system is an entire system for ONE (1) transmitter hunt. Meaning, there is 1 live transmitter and 1 dummy transmitter. Each charging unit can charge up to 2 transmitters. Additional accessories can be purchased.
This package includes:
(1) Radio Frequency Transmitter Alpha. Bright Green optimized for high visibility in low light conditions. High tensile strength steel hook with three barbs.
(2) 7075 Aluminum Carriers – Black Carnivore. Made from the 7075 aluminum alloy used in aerospace programs to resist high velocity impacts.
(1) Tracking Radio Frequency Receiver with Backlit LED Screen. Tracks up to 6 transmitters at once and shows if animal is moving or stagnant.
(1) YAGI Antenna.
(1) Practice Dummy Transmitter Alpha. For sighting and practice shooting.

Use the hooked dummy transmitter only on soft targets! The target needs to simulate animal flesh/hide. The barbs might tear up your target and/or ruin your dummy– remember, it's intended to go into flesh/hide!
Build your own soft target. Here's are the DIY instructions.

(1) Dual Charger for Transmitters. Charges up to 2 Transmitters at once.
(1) USB Cable for Charger. For charging from USB plugs and batteries in the field.
(1) USB to Edison plug. For charging at home from wall outlets.
(1) Custom Carrying Case. Custom built for optimal protection of the system.
30 Retainer Clips. New slick design to hold your transmitter in the carrier.
30 Secure Bands. Crossbow Secure Tape is also added to the Crossbow System.
All crossbows shoot differently. The Retainer Clips and Secure Bands require a different set-up based on your crossbow's make and model.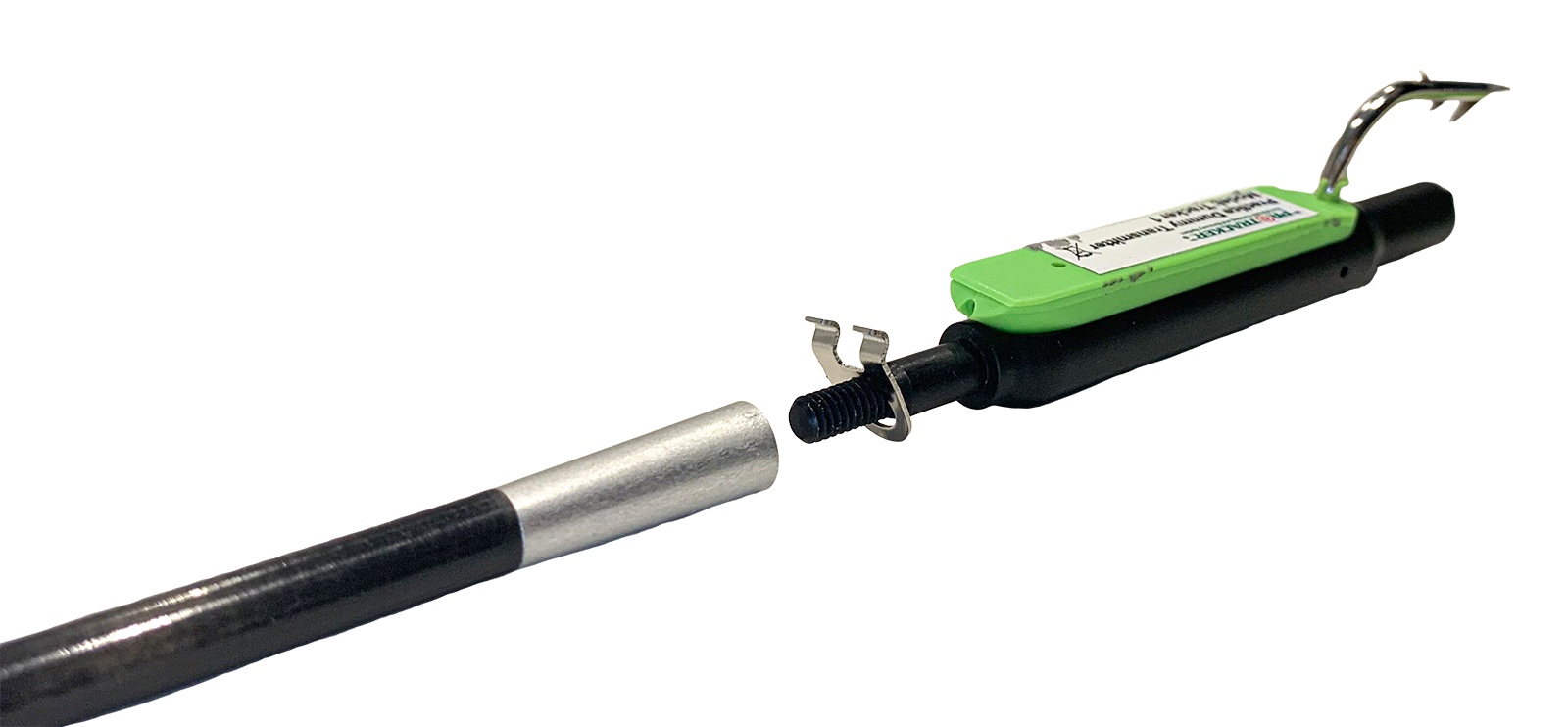 The Pro-Tracker® System comes with a 30-Day Money Back Guarantee.
Download the Pro-Tracker® System User Manual here
AMATEUR RADIO LICENSING:
( 47 CFR FCC part 97 )
Our low powered Pro-Tracker® transmitters shipped to addresses within the USA, operate only on Amateur Radio frequencies. According to FCC regulations, they require licensing for legal operation. There are no restrictions on their sale or possession, however Pro-Tracker® urges users to become familiar with and observe all laws and regulations governing Amateur Radio licensing and operation of the transmitters. Please note that Amateur Radio is not for commercial use. If you want to learn more about ham radio or to be licensed as a Technician Class ham radio operator please visit: www.arrl.org or www.gordonwestradioschool.com
Additional information
| | |
| --- | --- |
| Weight | 32 oz |
| Dimensions | 12.5 × 9 × 3 in |
System Manual
Read our Pro-Tracker Recovery System Here
Crossbow Setup
Read more here


The crossbow set up is the same as the compound set up, with two exceptions: The O-Rings and the Secure Band. After the clip is resting against the Transmitter, slide on a black O-Ring. Its function is to secure the Clip and Transmitter in place. Screw on your arrow, being sure not to over-tighten. (Figure 8) You'll then need to use the Secure Band to wrap around the Transmitter and Carrier. Correct placement of this Secure Band is vital! It must be wrapped around the transmitter as close to the Clip without covering the Clip.
The Secure Band should not cover the Transmitter light or any portion above the light. The Transmitter is designed to break away from the Band upon impact. Placing the Band higher on the Transmitter affects its ability to break free when it hits the animal. Figure 10 shows the correct placement.
Compoundbow Setup
Read more here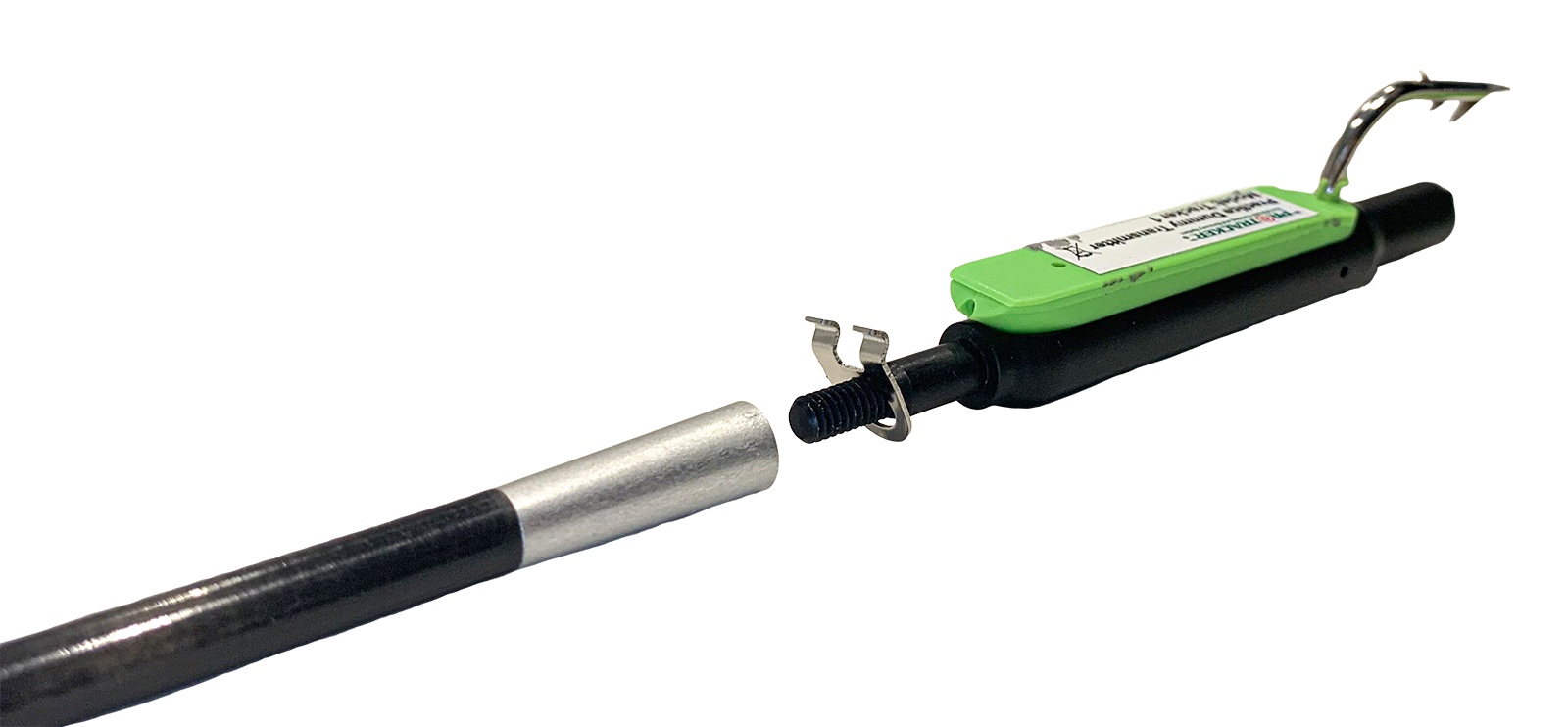 Once the Transmitter is resting in the Carrier, slip on the Retainer Clip until it is snug against the Transmitter, then screw on arrow to further secure clip in transmitter.
IMPORTANT: The clip must face the correct way! The backside of the clip's "C" curve needs rest on the Transmitter to properly hold it down . As an additional help, we try to always mark the side facing the arrow with red.
Reviews
5 out of 5 stars (based on 48 reviews)
[site_reviews_filter reviews_id="1931″ id="krb12ewj"]
It works!
With correct clip works good. Little more than I want to spend though for just I piece.
Easy set-up and I think would put you at ease in tracking an animal great product!
This was an amazing system that will make finding the animal you shot a lot easier to find.
—
I want to buy as many as I can because they are sooo useful and they are pretty durable.
Great idea for all hunters.
Increased chances of recovery of your animal.
...
worked, flew well. Tracking worked
Great idea for all hunters.
Increased chances of recovery of your animal.
5 stars
flew good like a field point.
Had my doubts...
The recovery system shot amazing. Before firing it I had my doubts but once I saw my arrow fly I was a believer!
turn life into a video game!!
Feels like turning life into a video game and a very ethical way to go about your hunting!
Questions and answers of the customers
A

It flies exactly where my pin is set up. I was pretty skeptical too with the hook, I thought for sure it'd throw off the flight and not be reliable. And I also wasn't sure if the dummy would be a good comparison to the real transmitter. But, true to their word, the flight was great and the accuracy was spot on. Simply put, I won't hunt without my recovery system!! Game changer!!!