Carbon Fiber 3K Weave Arrows
$139.95
Sold in packs 1 dozen (12 arrows)
 3k 100% pure carbon fiber
Straightness tolerance .003
Shafts are laser sorted and tested for shaft memory
High impact toughness
Spines: 250, 300, 350, & 400
6.5mm Shafts
*250 spine out of stock
Description
Fantastic Value
Only $9 per Arrow! (When sold by the dozen)
And that's the best of the best. What a steal!
Straightness
Our arrows have a tolerance of .003.
How do your arrows compare?
Strength
Why fuss with value and straightness if your arrows don't have the strength to back them up? Our arrows are built to withstand bone and can carry all the way through without compromising the integrity of the arrow. We carry spines of  300, 350, 400.
[And if we might be so bold, couple our Arrows with our FOC Bad Boys— and BOOM! You've got a complete, dominating powerhouse! Penetration & Accuracy to the MAX.]
Hand Selected & Inspected
We don't just look at one arrow and assume the next 100 are perfectly straight and good to go. Nope. We look at each individual arrow and make sure it's ready for the hunt. Overkill? Maybe. But we want to earn your business, which is why we'll stick to looking at literally thousands of arrows, individually.
Made for Hunters
We are hunters. We sell what we ourselves would use.
Why? Because our Arrows are top-of-the-line, strong, straight, and a fantastic value for all archery hunters.
Drooling? No need to feel embarrassed. Everybody drools when they catch the vision of our arrows!
Additional information
| | |
| --- | --- |
| Weight | 30 oz |
| Spine | 300, 350, 400 |
Specs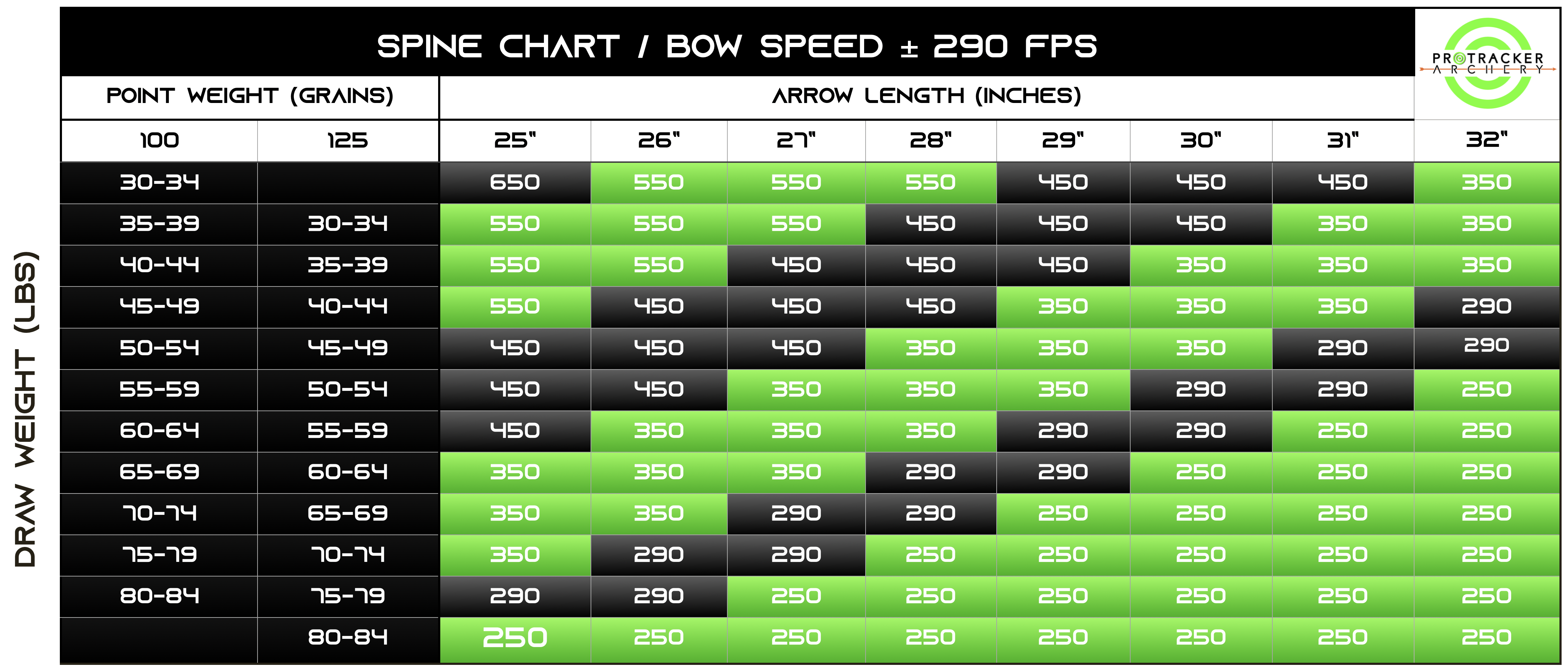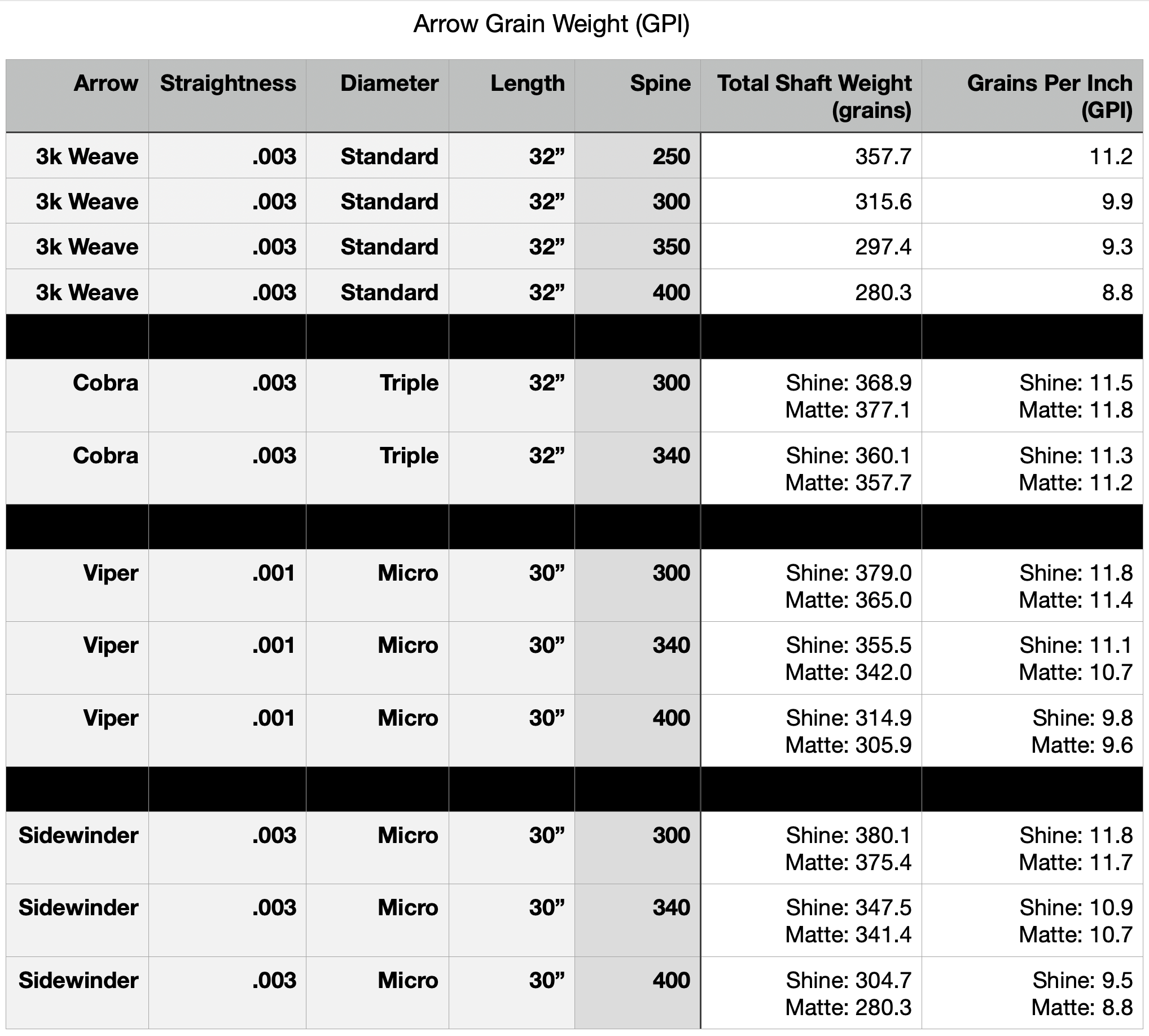 Reviews
4.9 out of 5 stars (based on 42 reviews)
[site_reviews_filter reviews_id="10635″ id="kr2l0qey"]
Best I've ever shot...
These are by far the best arrows I have ever shot. Love them very durable I do a lot of sheep hunting in Alberta so windy area and the arrows do great
Response from Pro-Tracker Archery
Great to hear, Clayton!
High quality arrows
These are very well made and accurate. I have not had any issues since using these arrows. I would highly recommend to friends and family
Very Accurate
Zero complaints. Well made and very accurate!
great arrows
I tried these arrows in my Mathews Drenalin with a 27 1/2″ draw length . I added 125gr field points.
The initial weight of the arrows was consistent and after adding the field points I shot @ 20, 30, and 40yds.
I am a 69 year old guy that hasn't shot my bow for about 4 years so I didn't expect much but @ 20 yds the arrows grouped @ about 1″ and my second arrow broke the nock off the first arrow! Can't cry about that! @40 yds My groups were about 4″ but pretty sure that was just me shaking.
overall the arrows performed well. good speed and good groups!
Archery is an art... and Pro-Tracker proves it!
I have the 300 spine carbon weave Pro-Tracker arrows. They are extremely well made, and even the appearance of the arrows would tell you that. I've had other brands of arrows in the past with imperfections and sharp edges, etc. Not the case with these—quality all the way! The arrows fly straight, take a beating, and are consistent shot after shot. I had the opportunity to talk to the owner on the phone and he was clearly knowledgeable and willing to help me understand the product. I swap between a crossbow and a couple of different compound bows during deer season, and getting a new top-of-the-line product like this is a welcome way to spend extra time with the compounds. I'll probably experiment with Pro-Tracker arrows and add BadBoys for my crossbow next. I like the product and the people I've interacted with at the company.
Response from Pro-Tracker Archery
Thanks for taking the time and writing a review. We really appreciate it!
My go-to arrows for next big hunt
I can only say the arrows are of very fine quality. They feel robust and well made but I didn't really get much time to play with them. I am sure these willl be my go-to arrows when I begin warming up for fall archery season. I'd have no problem trusting these for my next big hunt.
Flew just as well as my vaps
I had these arrows fletched at archery Idaho and they flew true and straight. Same grouping as my vap elite arrows all the way out to 70 yards. I have not had a chance to test the effectiveness on game but am going to assume the penetration will be just as good.
Got the shafts
Well I got a box a shafts , cut to length I did , fletched and installed tip inserts then shot em , no complaints, good as my gold tips
My new brand of arrows
Well finally got around to making up , cutting , fletching and tip inserts done on these fantastic arrows, they all performed well no complaints, they shot as good as my goldtip arrows I had before but will now buy these , the bad boys are awesome as well, highly recommend these fine products, happy hunting everyone .
Great Quality
I usually shoot Easton arrows, and have never had any complaints. After comparing the two against each other, you could very quickly see the difference. The Pro Tracker carbon fiber weave arrows are higher quality, and shoot like a dream. Would definitely recommend.
Response from Pro-Tracker Archery
Awesome! It's always fun to hear how they compare to your previous go-to-arrow! Thanks for the feedback!
Questions and answers of the customers
There are no questions yet, be the first to ask something for this product.