Bad Boys™ (Pack of 3) FOC Made Easy
$44.99
In Stock
Fits Standard OR Micro Shaft Arrows
FOC made easy, no re-sighting necessary
Effective shots with increased inertia
Increase your shots momentum without sacrificing accuracy
Easy to use and interchangeable whether shooting in the field or on the range
Comes in the colors (respective for each weight) and BLACK!
30 day warranty
Description
Bad Boys™ combine front of center technology and simplicity into an easy to use product made to increase your shots effectiveness without sacrificing accuracy. Just as important as speed, arrow FOC is a key factor affecting both arrow flight and penetration.
The Bad Boys™ are the archery pro's essential for an effective, accurate shot. Hunting big game requires the right tools to land an effective kill shot, the first time. Pro bowhunters rely on the Bad Boys™ to ensure their hunt is successful. We've developed a product that allows bowhunters to focus on increasing their FOC without the hassle.
Increase your shots momentum, without sacrificing accuracy using the Bad Boys™.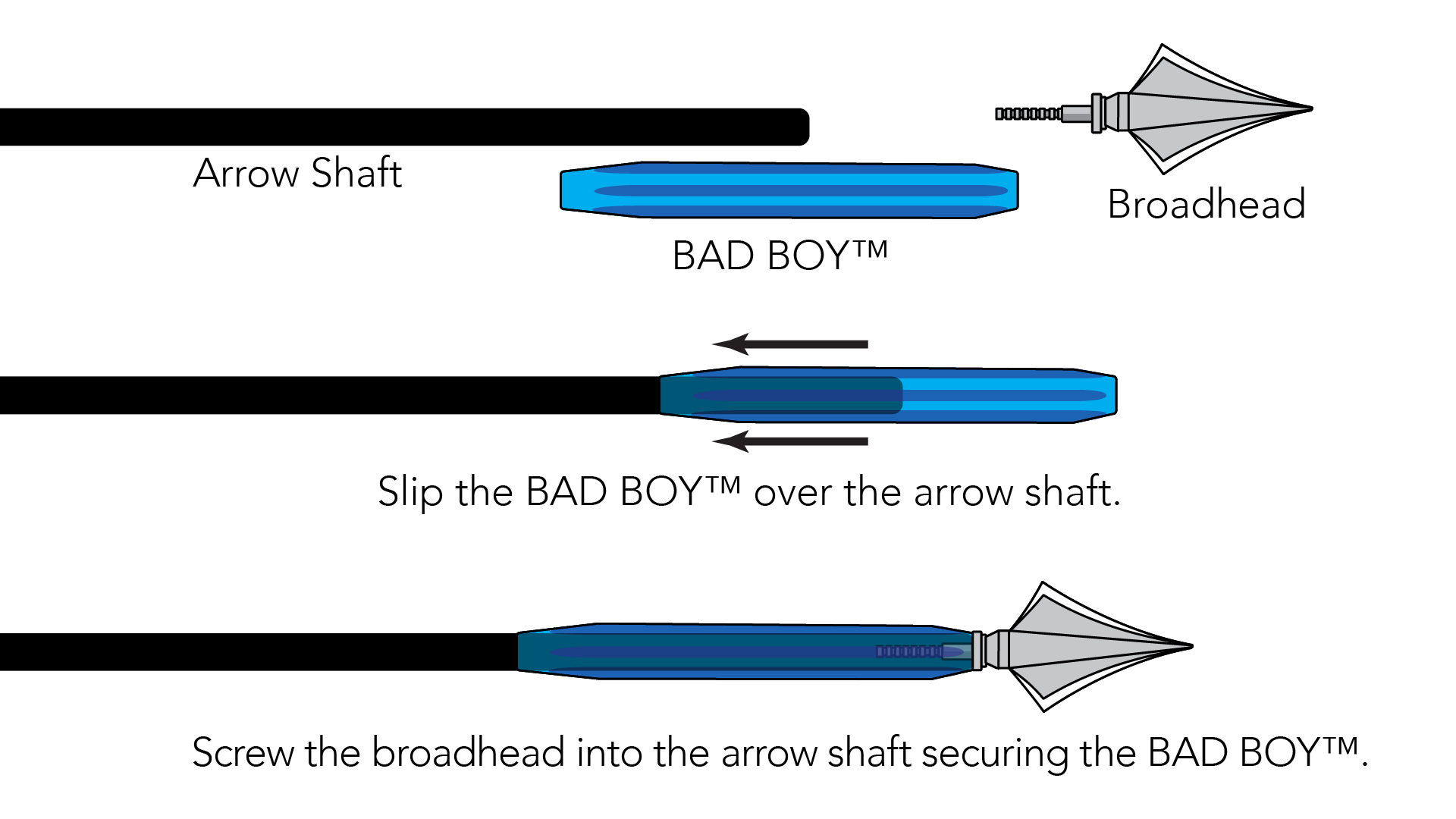 | | |
| --- | --- |
| Weight in Grains | Hunting Usage |
| 100gr | Small Game (groundhogs, rabbit, wild turkey) |
| 125-150gr | Medium Game (pronghorn, whitetail deer) |
| 200-350gr | Large Game (black bear, wild boar, elk) |
| 300-400gr | Largest Game (grizzly bear, cape buffalo, musk ox, elephant) |
Additional information
| | |
| --- | --- |
| Weight | 1 oz |
| Shaft: | Standard Shaft, Micro Shaft |
Reviews
Protected the tip of the arrow against those granite rocks!
So there I was at the Total Archery Challenge at Snowbasin Ski Resort in Utah. I'm about to head up the mountain to destroy some arrows against the granite rocks. Not on purpose, it's the angle and distance that the 3D animal targets are set up in some if the roughest terrain imaginable. But then I saw a pop up tent with some archery stuff for sell so I go up and talk to Gary with Pro-Tracker. He had a product called the Bad Boys that slip onto the front of the arrow and guarantee that the tip will not break! I bought half a dozen and Gary helped me install them and up the mountain I went. True to his word it protected the tip of the arrow against those granite rocks! I bought another half dozen and went home a happy archer!