Bad Boys™ (Pack of 3) FOC Made Easy
$44.99
Bad Boys are an FOC arrow sleeve that slides over the shaft of your arrow, allowing your shot to carry more momentum for fatal penetration.
Pack of 3
Fits Standard OR Micro Shaft Arrows
No need to re-sight within 20 yards. You can practice longer distances with simple adjustments.
Effective shots with increased inertia
Increase your shots momentum without sacrificing accuracy
Easy to use and interchangeable, both in field and range
Comes in Colors (respective for each weight) and Standard Black!
125 gr is currently OUT OF STOCK! Please check back later for availability.
Description
Ready for the ultimate FOC Powerhouse?
Simply slide one of these Bad Boys onto the front of your arrow's shaft, screw on your favorite broadhead of choice, and shoot. Watch history be made.
Bad Boys™ combine front of center technology and simplicity into an easy to use product made to increase your shots effectiveness without sacrificing accuracy. Just as important as speed, arrow FOC is a key factor affecting both arrow flight and penetration.
What are Bad Boys and why use them out in the field? 
Bad Boys are an FOC arrow sleeve that slides over the shaft of your arrow, allowing your shot to carry more momentum, which creates fatal penetration.
Hunters that have used and reported their game was shot and on the ground quickly! That's like a UFC knockout!
The pass through of Bad Boys has been instrumental to hunters recovering their game faster. The game isn't suffering or in agony for hours; The punch behind the Bad Boys allows for clean and fast kills.
And that hunting trip that you'd planned out for weeks and weeks—well you'll have more than a good "fish story" to tell. You'll come back with a fantastic hunting success story and meat to share!
Ok, here's the nitty-gritty about the Bad Boys:
Effective and Accurate
By increasing arrow FOC, you improve shot effectiveness without sacrificing accuracy.
Lethal Punch
To borrow from a favorite neighborhood spider, "With More Mass, Comes Greater Penetration." Or something like that. In short, Your target requires penetration. So the bigger the game, the more you rely on momentum and penetration to get the job done. This is at the heart of Bad Boys.
Fits Standard & Micro Shaft Arrows
The Bad Boys strengthen your arrows making them pound harder upon impact of bone, resulting in less breakage and deeper penetration.
Easily interchangeable
Literally you unscrew your broadhead, slide on a Bad Boy, screw your favorite broadhead back on, and shoot!
Works for you, not against you
No need to re-sight within 20 yards. You can practice longer distances with simple adjustments.
Comes in a variety of grain weights:
100, 125, 200, 250, and 300. You'll select the grain weight based on what game you're hunting. Feel free to call with any questions or if you need suggestions on what size you require!
Outstanding Price:
Archery gear and equipment is pricey! We get it. (And so do our wives…) A 3-Pack of Bad Boys is only $44.99!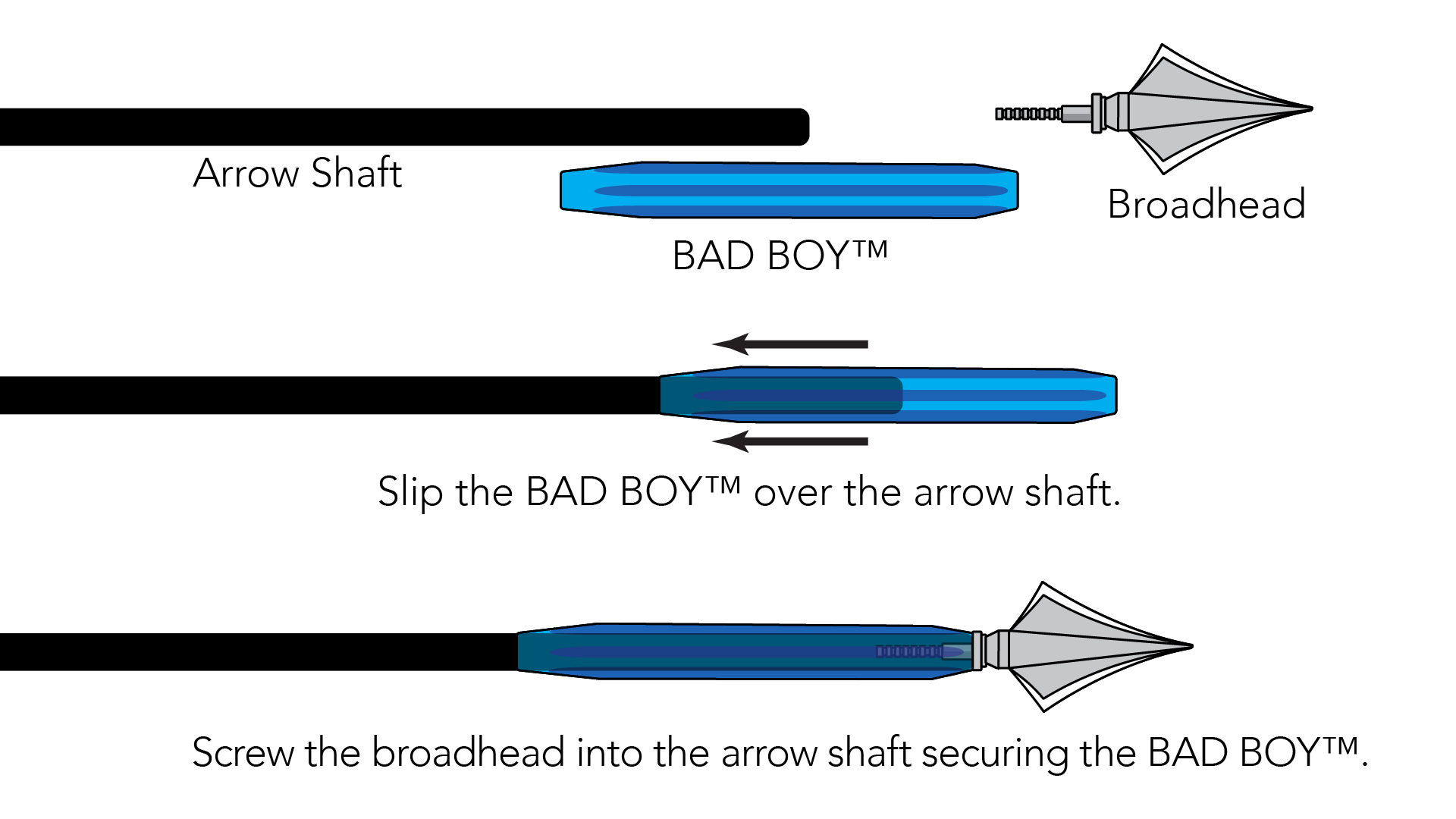 | | |
| --- | --- |
| Weight in Grains | Hunting Usage |
| 100gr | Small Game (groundhogs, rabbit, wild turkey) |
| 125-150gr | Medium Game (pronghorn, whitetail deer) |
| 200-350gr | Large Game (black bear, wild boar, elk) |
| 300-400gr | Largest Game (grizzly bear, cape buffalo, musk ox, elephant) |
Additional information
| | |
| --- | --- |
| Weight | 1 oz |
| Shaft: | Standard Shaft, Micro Shaft |
Video
Reviews
Bad Boys and Arrow
Love this combo. The arrows are perfectly strong and the forgiveness is amazing. With the Bad Boys attached they hit with the toughness of a young Mike Tyson. I have only use these to target shoot but will be hog hunting with them in the upcoming weeks. Will another write a review after that hunt.
Response from Pro-Tracker Archery™
Fantastic! Mike Tyson toughness— couldn't have said it better ourselves!
Very impressed with 150gr and made a complete passthrough
My wife and I were excited to use and try the products made by Pro-Tracker Archery. I used the Bad Boy 150 grain weight forward on my arrow. My arrow alone with the broadhead weighed 414 grains. The Bad Boy added 150 grains for a total of 564 grains. I shot a large cow from a tree stand at 25 yards. Hitting her from behind the shoulder, the arrow was a complete pass through, hitting a rib on entry, and breaking through a rib on the exit side. I have been fortunate in my life to harvest many elk and to assist others taking elk. I have only seen a couple of complete pass throughs. Very impressed with the Bad Boy weight forward and will continue to use the Bad Boy on all my hunting arrows. I was very impressed with its ease of installation, and the 150 grain Bad Boy required no sight change to use.
Didn't break my arrow tip as promised!
So there I was at the Total Archery Challenge at Snowbasin Ski Resort in Utah. I'm about to head up the mountain to destroy some arrows against the granite rocks. Not on purpose, it's the angle and distance that the 3D animal targets are set up in some if the roughest terrain imaginable. But then I saw a pop up tent with some archery stuff for sell do I go up and talk to Gary with Pro Tracker. He had a product called Bad Boys that slip onto the front if the arrow and guarantee that the tip will not break! I bought half a dozen and Gary helped me install them and up the mountain I went. True to his word it protected the tip of the arrow against those granite rocks! I bought another half dozen and went home a happy archer!
Response from Pro-Tracker Archery™
This is great! Thank you Steve.
Will be using for years to come!
I had to know if it works. So I went to my truck, forgot about the blood trail. I even came back in the wood in a different area. This thing took me right to my deer. I am a believer this thing really works… I will be using this thing for years to come.